The Artemis Product Line for Composability
GigaIO's Artemis products provide the components to build a composable solution. The Artemis memory fabric switch, pooling appliance, and network card — all powered by GigaIO's universal dynamic memory fabric FabreX — are the building blocks you need to take advantage of being able to dynamically configure infrastructure according to workload requirements.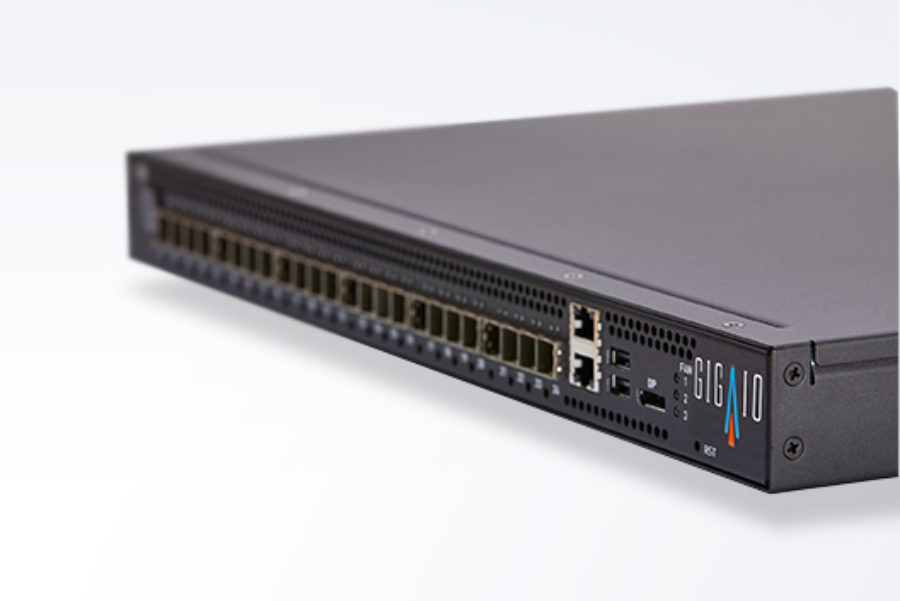 ARTEMIS TOP-OF-RACK MEMORY SWITCH
The Artemis memory switch is the fundamental building block of the universal dynamic memory fabric network, FabreX, which provides true composable disaggregated infrastructure (CDI). The Artemis switch features per port bandwidth up to 256Gb per second with 140 nanosecond port-to-port latency. Administer your FabreX network using DMTF open-source Redfish® APIs, providing an easy-to-use interface for configuring computing clusters on-the-fly.
ARTEMIS MANAGED ACCELERATOR POOLING APPLIANCE
This expansion chassis is a rack-mount, disaggregated compute accelerator enclosure with space and power for up to 10 PCIe Gen 3 or Gen 4 x16 accelerator cards (GPUs, FPGAs, or custom ASICs). The advanced management features of the resource box enable per-slot power control and out-of-band telemetry from the cards.
ARTEMIS MANAGED HIGH PERFORMANCE STORAGE POOLING APPLIANCE
This expansion chassis is perfect to create your high performance Flash Array JBOF (Just a Bunch of Flash) based on NVMe technology or even computational storage units. It can include up to 32 2.5" drives and 1+1 redundant 1000W high efficiency 80 Plus Titanium PSUs to provide high throughput and low latency for resource sharing and high availability.
More on the Artemis Managed High Performance Storage Pooling Appliance
ARTEMIS PCIE NETWORK ADAPTER CARD AND CABLES
The Artemis FabreX Network Adapter is the high-performance cabled interface to cluster subsystems across the FabreX hyper-performance network. The adapter card includes both host and target modes (for PCIe I/O). With the card installed, applications can access remote PCIe devices as if they are attached to the local system.
All elements on the FabreX Network are interconnected using standardized, robust, and easy-to-use Copper and Active Optical cables. These cabling solutions support connection lengths ranging from 1m to 100m.
More on the Artemis FabreX Gen4 Network Adapter Card and Cables
FabreX Universal Dynamic Fabric Overview
FabreX is the only fabric which enables complete disaggregation and composition of all your resources in the rack. In addition to composing resources to servers, only FabreX can compose your servers over PCIe (and CXL in the future), instead of introducing the cost, complexity, and latency hit from having to switch to Ethernet or InfiniBand within the rack.
Dig Into the Details of FabreX
FabreX Software
Our host software enables server-to-server communication over FabreX for protocols such as NVMe-oF, MPI, Libfabric, and TCP/IP. It is open source, supports all popular Linux installations, and can be readily downloaded from our support portal. Our switch software engine drives the performance and dynamic composability of GigaIO's composable disaggregated infrastructure (CDI) for enterprise data centers and high-performance computing environments.
Composition Software
One of the key advantages of a FabreX-powered composable infrastructure is your freedom of choice when it comes to how you want to disaggregate and recompose your rack resources. Choose the tool best suited for your environment, from the utmost in control via our robust CLI (Command Line Interface) and RedFish interfaces, to just dropping in your existing DevOps workflow, to a unified, single pane of glass, to managing your entire infrastructure seamlessly within a GUI via advanced and automated resource scheduling features with Bright Cluster Manager or SuperCloud Composer.
FabreX Hardware Summary Specifications
Click below for the complete specifications for each hardware element of the GigaIO FabreX system.